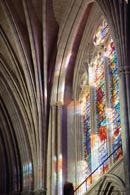 The Diocesan Committee on Liturgical Music (DCLM) found its roots way back the establishment of the Diocesan Commission on Liturgy. It was formally formed as a committee last 2002, after the 1st Diocesan Liturgical Music Convention held in Nov. 9 that same year.
Headed by Fr. Gboi A. Ssamonte as its chairman, the DCLM gathered interested music enthusiasts from around the diocese to meet and plan and organize. The 1st group of members came from lay composers, musicians and choir directors. From there, the committee branched out to the vicarial levels.
Today, the DCLM is proud to have established vicarial committees of music in order to reach out to the parishes especially those far from the diocesan center.
Past liturgical music directors include Fr. Rey Magnaye (+), Fr. Manny Manicad, Fr. Pabs Gregorio and Fr. Ruben Lumapas.